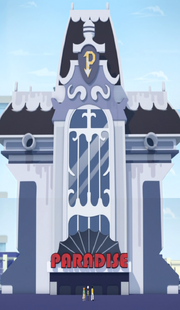 The last independant venue in Los Bosmos, The Paradise is rumoured to be haunted! It features in the episodes Play Misty for Me and Phantom of the Hip-Hopera
It is also where Carlos has his secret workshop where he made the guitars Misty and Axe. The workshop is very well hidden and hard to find. At the entrance of the workshop is a large glowing tree, the wood of which is made to make the special guitars Freezbone and Kurtz use.
The interior of the workshop features a giant guitar and most things in it are probably sonically powered.